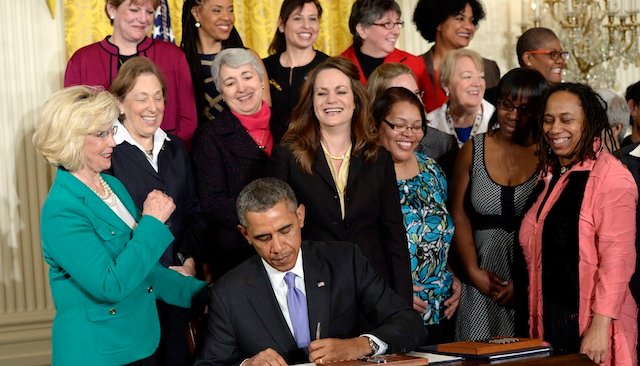 The United State of Women
Michelle Obama nailed it. She put together an A-list event at the Washington D.C. Convention Center on June 14: the United State of Women Summit. Over 50 powerful and engaging women at the top of their fields came to report on the state of women in education, health care, government, the military, global development, business, and sports. It was thrilling to be in the room with these incredibly talented leaders and 5,000 attendees – women who are all working hard toward the same goal: the advancement of women throughout the world.
This was a really big deal for a lone researcher like me. Before the Summit, my writing on women's leadership had been quietly building, first into the book I co-authored with leadership consultant John Keyser, Make Way for Women: Men and Women Leading Together Improve Culture and Profits, and then on to a series of speaking events.
So I was excited to participate in the summit. But I had no idea how thrilling it would be to share space with over 5,000 women who are also working hard to advance women. The air in the room was electric with excitement and possibility.
And that was at 7:00 AM – well before President Obama stepped onstage and said, "I know you're all here to see Michelle."
The room erupted in cheers.
Then the President said something that brought thunderous applause. "I may be a little grayer after eight years, but this is what a feminist looks like."
There were so many moments of blazing truth throughout the day.
"You are a Superpower!" Meghan Yap said to all 5,000 of us in the audience. Yap is a Champion of Change with Vice President Biden's sexual assault awareness campaign It's On Us. "Whatever you do, whatever work you're involved with, you can help empower women."
Heather Boushey, Chief Economist, declared, "Women are not just half of the population, women are half of the economy."
Eleven-year-old Founder of 1000 Black Girls Books Marley Dias told us, "If we want equity, we need diversity."
Lilly Ledbetter insisted, "We need more women in congress and more women at the top!"
While we in the audience were cheering for her, Ms. Ledbetter firmly reminded that we still have far to go. The gender pay gap is appalling, especially in fields such as securities, commodities, and financial services sales agents (where the pay gap is 48 percent), personal financial advisors (41percent), legal occupations (40 percent), and physicians and surgeons (20 percent).
Happily, on this momentous day, the White House and private-sector companies, foundations and organizations announced a $50 million commitment – along with new policies, tools and partnerships – to expand opportunities for women and girls. This includes the new White House Equal Pay Pledge.
Companies that sign the pledge agree to conduct an annual company-wide gender pay analysis across positions, to review hiring and promotion processes, to integrate equal pay efforts into broader equity initiatives, and to identify and promote other best practices that will help ensure wage fairness for all workers.
So far, 28 companies have signed the pledge, including Accenture, Airbnb, Amazon, American Airlines, BCG, Buffer, Care.com, CEB, Cisco, Deloitte, the Dow Chemical Company, Expedia, Inc., Gap Inc., Glassdoor, GoDaddy, Jet.com, Johnson & Johnson, L'Oréal USA, PepsiCo, Pinterest, Popcorn Heaven, PwC, Rebecca Minkoff, Salesforce, Slack, Spotify, Staples, and Stella McCartney.
Here is the Pledge. Will your company sign it?
White House Equal Pay Pledge
By submitting this form, your business agrees to the following statement:
We applaud the growing number of countries that have already made significant progress in closing their gender wage gap. Despite passage of the Equal Pay Act of 1963, which requires equal pay for equal work, the gender pay gap in the United States persists. Women working full-time earn only 79 percent of men's wages, and we are committed to taking action individually and collectively to reduce that national pay gap.
We believe that businesses must play a critical role in reducing the national pay gap. Towards that end, we commit to conducting an annual company-wide gender pay analysis across occupations; reviewing hiring and promotion processes and procedures to reduce unconscious bias and structural barriers; and embedding equal pay efforts into broader enterprise-wide equity initiatives. We pledge to take these steps as well as identify and promote other best practices that will close the national wage gap to ensure fundamental fairness for all workers.
_______________________________________________________________
Make Way for Women
If all businesses and companies sign this pledge, we will all have reason to stand up and cheer. Companies that hire and retain more women will prosper right now and thrive well into the future. Women bring critically important skills to the table. Women are business savvy and communicate clearly. We listen to others' ideas and perspectives. These essential skills raise morale and productivity, creating a culture of purpose and meaning.
When men and women lead together, the levels of intelligent problem solving and innovation rise significantly. In executive committee meetings, men speak boldly and strategically, keeping the group moving toward the goal while women explore issues and perspectives that would improve outcomes, assuring the results are sustainable and the long-term effect on their people is favorable.
Businesses performing in the top 20% have 37% women in leadership positions. Companies in the bottom 20% have only 19% women leaders. Greater gender diversity on boards and in senior management brings higher returns on equity, higher price/book valuations, and higher stock price performance.
So yes, we clearly need more women in leadership. But this is not just about gender politics. What we are advocating is a proven method of strengthening companies: capturing the combined talents of both men and women to raise morale, productivity, and profits.
Men and women together form the strongest leadership. This is why Leadership Consultant John Keyser and I wrote the book Make Way for Women: Men and Women Leading Together Improve Culture and Profits. As John says to women at companies he works with, "We need you!"