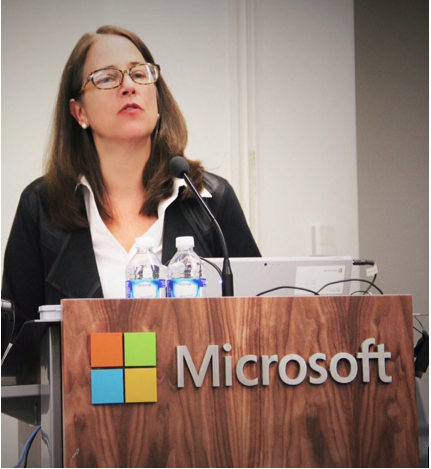 Good News for Women at Microsoft
I was invited to speak at Microsoft last week on the status of women in business. The Mid-Atlantic campus in Reston, Virginia held a women's career conference and I was asked to share the research I compiled for the book Make Way for Women: Men and Women Leading Together Improve Culture and Profits, which I co-authored with Leadership Consultant John Keyser.
Looking around the conference room full of brilliant engineers, account managers, project managers and executives, I told them how gratifying it is to speak with women who are working at a progressive company that is actually doing something to advance women! Microsoft is one of only 20% of companies actively engaged in confronting unconscious bias, the tendency to make assumptions that women's capabilities are less than men's. And Microsoft is one of a handful of tech companies closing the gender pay gap.
This is the good news: the business case for women in leadership is rock solid. Companies that recognize the value of women and promote them to leadership are seeing stronger profits, attracting and retaining top talent, and leading the way into the future.
Businesses performing in the top 20% have 37% women in leadership positions. Companies in the bottom 20% have only 19% women leaders. Greater gender diversity on boards AND in management brings higher returns on equity, higher price/book valuations and higher stock price performance.
We know that women bring critically important skills to the table. Women communicate well and take time to listen to others' ideas and perspectives. These essential skills raise morale and productivity, creating a culture of purpose and meaning.
When men and women lead together, the levels of intelligent problem solving and innovation rise significantly. In executive committee meetings, men speak boldly and strategically, keeping the group moving toward the goal while women consider issues and perspectives that would improve outcomes, assuring the results are sustainable and the long-term effect on their people is favorable.
There is a powerful synergy of talent that raises morale, productivity, and profits. Men and women together form the strongest leadership. This is why John Keyser and I wrote the book Make Way for Women. As John says to women at companies he works with, "We need you!"
The bad news is that we still have far to go. Women hold only 25% of management positions and only 4% are CEOs at S&P 500 companies.
What is still holding women back?
The World Economic Forum reports that 44% of global employers across all industries cite unconscious bias and lack of work-life balance as the two top barriers to women's workforce integration in the 2015–2020 period.
The fact is, flexible work arrangements (FWAs) may be in place, but not well implemented. As of 2014, 38% of employers reported allowing some workers to work at home on a regular basis; only 3 percent of employers allowed most or all of their employees to do so. This despite the fact that a study of over 700 firms in the United States, United Kingdom, France and Germany by The National Study of Employersfound "a significant positive relationship between work-life balance practices and total factor productivity."
As for employers who insist on face time, Catalyst found that face time doesn't guarantee profitable outcomes. Catalyst researchers Anna Beninger and Nancy M. Carter said of their results, "Employers and managers need to learn to trust their employees to get the job done and not be so concerned about when and where the work is completed as long as deadlines are met."
Regarding unconscious bias, there is hope. While speaking with the women at Microsoft, I noted there was one sole man in the room. During our discussion, the women shared stories of being overlooked by their male colleagues and clients. One woman said she is always the sole woman engineer in the room, and she is often called a girl. Another said men talk over her and don't address her. She looked unhappy, but she shrugged and said that's just the way it is.
Then the sole man stood up. Turns out he was an executive. He looked at the group and said, "I want to know when this happens. Tell me if I'm overlooking something, or making assumptions that aren't founded." He said that during discussion meetings, he's thinking ahead about strategies and he sometimes misses the process – what is happening here and now in the room.
It is exactly this openness to change that is going to drive women's advancement to the next level. Senior executive men who actively engage and listen to understand the obstacles women face in their careers are more likely to work to remove them.
Companies need to hold more conversations like this with senior men and women together. During these meetings, men can learn how women's leadership skills balance and complement men's, and how the combination of men and women leading together strengthens overall leadership and long-term results.
This is the goal. How will your company get there? My co-author John Keyser and I would be happy to facilitate that discussion.